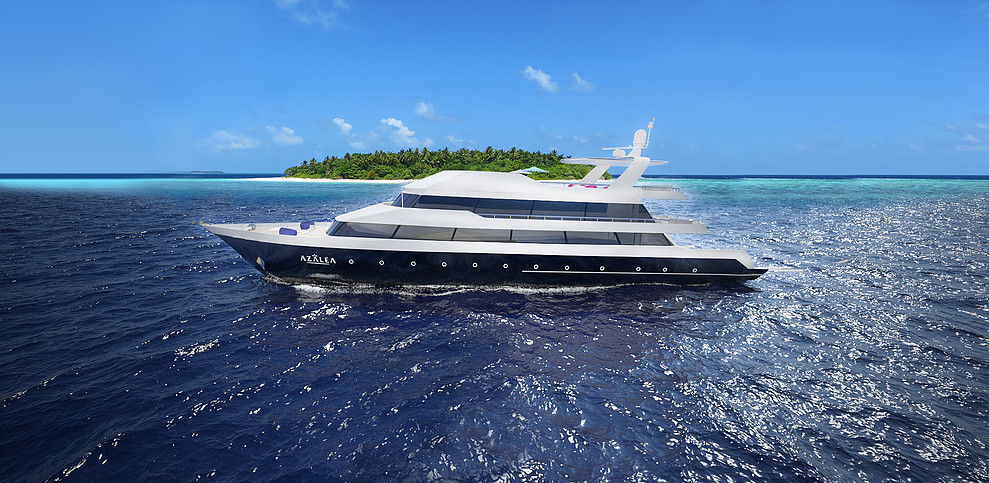 Charter price (in euros per week): 62.500
Yacht location: Maldives!
Length
38.75 м
Beam
7.80 м
Year built
2015
Cabins/berths
3 twin beds and 6 with 2 beds /18 
Step on board into your home on the ocean. Azalea is a purpose built luxury steel yacht that meets the highest safety standard at sea. Relish every moment of your voyage on our 38 meter long vessel comprising of three main decks and an additional sun deck.nEner  vessethel through main entrance onto the main deck and walk through the kitchen and dining areas and towards
the 3 largest rooms on board.
TERMS & CONDITIONS
a) All the prices are given in United States (US$) Dollars and per night basis and are commissionable
b) Price not inclusive of Government TGST 12% and Green Tax
THE PRICE INCLUDES
a) Full Board meals (breakfast, lunch and dinner)
b) 3 dives per person per day including one night dive per week (total 17 dives) with the classic itineraryof Male' Atoll , Ari Atoll &Vaavu Atoll.
c) Diving includes tank and weights only
d) Services of a qualified, experience PADI English speaking Dive Instructor
e) Bottled drinking water
f) Unlimited hot beverages (tea & coffee)
g) Visits to local islands
h) Visits to Desert Islands
i) Barbeque on Desert Island
j) Snorkeling & Fishing Trips
k) Meeting & Greeting services at the Airport
l) Transfers from Airport to Azalea Cruise and return
m) A bottle of water per cabin will be provided daily
n) Local snacks or biscuits with hot beverages after each dive or excursion
o) Local fishing gear
p) Snorkeling
q) Virgin uninhabited island visit (Depending on the route)
r) Local Island Visit
s) 6 person Jacuzzi
THE PRICE EXCLUDES
a) Government tax 12% and Green Tax per person per night USD6
b) Satellite communication
c) Fine wines, Champagnes, Fresh Juices
d) Spa
e) Dive Course
f) Dive gears
Our charter hire provides you with a truly bespoke, hedonistic holiday experience. A charter cruise is tailored to your exclusive itinerary. You will enjoy complete freedom and flexibility. Our professional crew is dedicated to creating your perfect getaway. We will assist you to put together the perfect Maldivian floating holiday experience for you and your guests.  Immerse yourself in the exclusivity, luxury and total relaxation of the Azalea Cruise experience. Enjoy especially created menus and fine wines to suit your tastes. Choose the activities you want to do, when you want to do them. All activities, meals and drinks are included with our private charter price.  All of this, plus the most breathtaking, exotic and alluring natural landscape above and below the ocean waters. Your tailored itinerary and the sailing route will be finalized with us and the crew of the yacht prior to embarkation.
What are you waiting for?